Which method should your organization use to assess your organizational culture?
Organizations that cultivate human-centric cultures can more effectively attract and retain top talent. These employees will be more engaged, productive, collaborative and curious — and the business will benefit as a result.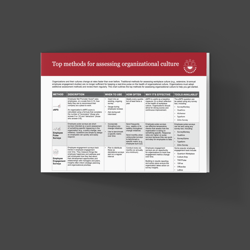 There are various assessment methods a business can use to keep a real-time pulse on the health of its organizational culture. This chart outlines the top methods for assessing organizational culture to help you get started.
Download this free comparison chart for an overview of each method, including:
Description of each assessment method
When to use each method and how often
Why each method is effective
Tools available for each assessment method type
Download the organizational culture assessment method comparison chart now.